SOUTH AFRICAN MILITARY HISTORY SOCIETY EASTERN CAPE BRANCH
SUID-AFRIKAANSE KRYGSHISTORIESE VERENIGING OOS-KAAP TAK
Newsletter/Nuusbrief 150
March/Maart 2017
The February meeting of SAMHSEC took place on the 13th at the usual venue.
The members' slot was filled by Stephen Bowker on the topic The Kop. He began byreferring to the Spioenkop battlefield on which a small prominence/koppieon the summit played a significant role in the battle, and where Lancashire troops led the assault and took heavy casualties. On their return to the UK, a bank of terracing at the Liverpool Football Club, which to those who had been involved in the battle resembled 'the Kop' in steepness, was named The Kop in memory of the event. The name is now widely used at other football clubs in the UK with similar steep terraces and stands.
The curtain raiser by Alec Grant was titled Lord Haw Haw – William Joyce. Alec records as follows: Most of my friends and colleagues have heard of Lord Haw Haw and associate him with Nazi propaganda broadcasts to mainly Britain from Germany. Those who have heard the broadcasts will recall the opening lines "Germany calling – Germany calling", as Joyce came on from Berlin. Many books and articles have been published about him, initially in favour of his execution in London as a traitor. Later publications questioned the legal decisions and processes which led to an 'American' being found guilty of treason in Britain. My interest was raised when I became aware of a book published recently by Colin Holmes, Professor of History at Sheffield University titled Searching for Lord Haw-Haw. Much of the information for this talk came either from this book or from the Internet.
According to Holmes, William Joyce was born in New York in April 1906. His father Michael was born in Ballinrobe, Mayo, and his mother Gertrude Emily (neé Brooke) was British. William was three years old when his parents decided to return to Ireland; first to Mayo but shortly afterwards to Galway. William attended St Ignatius College and later enrolled in their Colaiste Lognaid programme. He achieved well and learnt Latin, French and German. His colleagues noted he had developed a very 'cocky' attitude. During this time Michael Joyce acquired numerous properties in Galway.
Although the majority of Joyce's friends and neighbours would have supported Irish Nationalism, the Joyce family were strongly Unionist. When the 'Black and Tans' were sent to Ireland at the time of the Civil War, Michael Joyce rented one of his houses to them. It is alleged that William Joyce, a teenager at the time, provided information to the Black and Tans and that because of this, an attack on William was planned by the IRA. Apparently Michael heard of this and moved William to another house. He then decided to move to England with his family.
William enrolled in Kings College School, Wimbledon, and later joined the Worcester Regiment but had to leave when it was discovered he was too young. He attended night school at Aldershot and obtained a first class honours degree at Birkbeck College, University of London. He started teaching to earn a living and was increasingly drawn into right wing politics. He married Hazel Barr and they soon had two daughters. When Hazel was pregnant with the younger daughter William had an affair with Mary Ogilvy, a 16 year old student of his. In 1924 William was disfigured during a knife attack at a right wing rally in Lambeth. The attack left a very ugly scar from ear to mouth and although Joyce claimed it to be the work of a Jewish Communist, Hazel later stated it was the work of an IRA-supporting Irish woman. William went on to become second in command of the British Union of Fascists (BUF). His attitude became more and more anti-Semitic and vitriolic. His addresses were filled with hate speech and personal insults. The BUF fared badly in elections and Sir Oswald Mosely, the leader, fired Joyce, who then started his own party, The National Socialist League. He married Margaret White in 1936.
Joyce had been friends with Maxwell Knight, an MI5 agent who had become close to Fascist supporters in order to obtain information on Communist activities from them. In 1939 he informed Joyce that he was to be arrested and William and Margaret departed Britain for Germany. To do so Joyce applied for a British passport stating his nationality as British – an action which laterled to a guilty verdict for treason.
He soon became very useful to the Nazi cause, as was Margaret, and their main strategy was to convince the people of Britain to side with Germany and Hitler. His broadcasts are well known and available on You Tube. After his final broadcast in 1945 in which it is clear he had been drinking alcohol, he and Margaret left Berlin to escape the Allies. They were captured on the Danish Border and Joyce was shot in the buttocks while reaching for his, by then, German passport.
He was sent to Wandsworth Prison and appeared before Lord Tucker in the Old Bailey, charged with treason. Joyce never spoke during his trial other than to state "Not Guilty" and believed he would not be found guilty because of his American birth. Lord Tucker, however, instructed the Jury that because of his British passport for the period 1939 to 1940, Joyce had enjoyed British protection and was therefore to be tried as British. William Joyce was found guilty, lost two appeals, and was hanged at Wandsworth prison on 3rd January 1946. He was buried at Wandsworth, but in 1976 his older daughter Heather arranged for his body to be reburied in Galway. Margaret Joyce was never charged and was allowed to leave Britain.
The main lecture, HMS Birkenhead, was presented by Michael Barry. Michael's great-great grandfather, Corporal William Butler, was one of the survivors of the Birkenhead tragedy. After he had recovered from the ordeal he went on to fight in the Eighth Frontier War as part of the 12th Royal Lancers. Michael recounted the well-known circumstances surrounding the sinking of the Birkenhead, comparing the official accounts with the contents of a 1905 interview which Butler (then aged 76) had given relating to the disaster. There are slight differences, but overall, a remarkable similarity. He then briefly referred to some of the fighting that took place during the war and in which William would have participated.
After the war and the associated Kat River Uprising, William Butler took his discharge and became a farmer in the Whittlesea district. It is not known whether he served in the Ninth Frontier War. He married a woman called Harriet or Hannah known as an 'Island vrou' which, in the words of Michael, "was a euphemism, or polite way of saying that the person was someone of colour". They had had 12 children and numerous other descendants, some of whom were present at the talk. As Michael reminded us, it was inevitable that, under the apartheid regime, "some [of the siblings] were classified as 'Coloured', a few as Black African and one or two as White, thus contributing significantly to our complex rainbow nation".
Michael concluded with reference to his great-great grandfather "I would like to salute him not only as an ancestor but also as a pioneer here in Africa who helped shape this beautiful land. His story will only be complete once I, or others, manage to identify his faithful wife and mother of his 12 offspring. She stood by him throughout some of the difficult times of change and transformation that was happening on the Eastern Frontier. Times that helped shape South Africa's future. For those who only say bad came from our colonial past, I say some good came as well, and for those that say all they knew was war, William proved that love existed as well."
The transcript of William Butler's 1905 interview can be seen at: https://www.facebook.com/permalink.php?story_fbid=865187623493829&id=864643726881552&substory_index=0– Future meetings and field trips/ Toekomstige byeenkoms en uitstappe
The next SAMHSEC meeting will be on Monday 13th March 2017 at 19h30 at the Eastern Cape Veteran Car Club in Conyngham Road, Port Elizabeth. The member's slot will be used by John Stevens, whose topic will be A tale of two ships. The AGM will be held in lieu of the curtain raiser and the main lecture will be by Wessel Rossouw on My experiences as a chaplain in the SADF during the Border War and subsequent operations.
Matters of general interest / Sake van algemene belang
New members / Nuwelede
This month we welcome three new members. Graham and Leona Wood have joined us from the Cape Town Branch. We hope their association with SAMHSEC will be a long and happy one. Our youngest member, Emma Cilliers, who was born on 15th February, brings the average age of our branch down substantially. Congratulations to Donna and Franco: may your life with Emma be one of joy and fulfillment. Franco and Donna would also like to thank everyone for their well wishes, gifts and in particular Brenda Nel for organising the surprise stork party.
Individual members' activities / Individuele lede se aktiwiteite
During February, Richard Tomlinson, Pat Irwin and Anne Irwin visited the Martello Tower in Fort Beaufort and the fort at Post Retief in the Winterberg. The Martello Tower is in remarkably good condition, thanks to the restoration work done on it by Carl Kritzinger, mentioned in Newsletter 132. Post Retief by comparison, despite work done on it by Carl and the current owner, Mr Dreyer, is slowly crumbling. This is in part measure due to the way it was built as well as the normal ravages of time. It is nevertheless both historically and architecturally very interesting and well worth a visit.


Part of the loop-holed south and east walls of Post Retief
Photo: Pat Irwin
Subscriptions 2017 / Ledegeld 2017
Members are reminded that subscriptions for 2017 were due on 1st January. They are:
Single subscription - R 235
Family (2 people at same postal address) - R250
Over eighties pay 50% and
Over nineties are free.
Banking details are:
FNB Eastgate branch code 257705
Current a/c in name SA Military History Society,
a/c number 50391928346
Please use your surname as the reference.
A great lady turns 100
The 20th March marks the 100th birthday of Dame Vera Lynn, singer, songwriter and actress. She is perhaps best remembered for her popular wartime songs, and boosting of morale for British and Commonwealth troops. During the Second World War she toured Egypt, India and Burma giving outdoor concerts for the troops. Known as The Forces Sweetheart, it was often said that two of the reasons Britain refused to capitulate to the Nazis were Winston Churchill and Vera Lynn.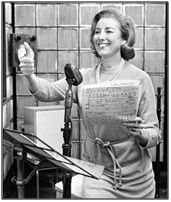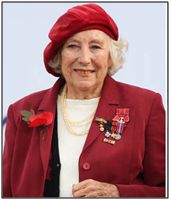 Dame Vera Lynn in the 1940s and today
Photos: Common Domain
She remained popular after the war, appearing on radio and television in the UK and the US and recording a number of hits. Her last single, I Love This Land, was released to mark the end of the Falklands War. In 2009, at age 92, she became the oldest living artist to top the UK Albums Chart. She has devoted much time and energy to charity work connected with ex-servicemen, disabled children, and breast cancer and continues to be held in great affection by veterans. In 2000 she was named the Briton who best exemplified the spirit of the 20th century. While there will be a number of public celebrations in her honour, she will mark the occasion with the release of a new album!
Two of her many inspirational wartime songs can be heard at:https://www.youtube.com/watch?v=-_f5NbPOOGE and
https://www.youtube.com/watch?v=cHcunREYzNY
World War I Centenary Years / Eerste Wêreldoorlog Eeufeesjare
The Mendi Disaster
The 21st February marked the 100th anniversary of the Mendi Disaster in which 616 South African troops were drowned when the SS Mendi was accidently rammed and sunk in the English Channel. Commemoration of the incident has been well covered in the media. Malcolm Kinghorn, who worked on the Roll of Honour for the memorial, has contributed the following account relating to the difficulties faced in the compilation of the casualty list.
Almost 21 000 black South African volunteers served in France with the South African Native Labour Contingent (SANLC) between 1916 and 1918 as part of a labour force which also included French, British, Chinese, Japanese, Indian, Egyptian and Canadian labourers, as well as German prisoners of war. Most of the South Africans were employed in unloading ships and loading trains in the French harbours of Le Havre, Rouen and Dieppe.
The 4 230 ton SS Mendi sailed from Cape Town for France on 16th January 1917 with members of 5 Battalion, SANLC on board. At 04h55 on 21st February, in fog off the Isle of Wight, the 11 484 ton Darro collided with the Mendi's starboard side, causing the Mendi to sink within 25 minutes. Of the 823 SANLC troops on board, 616 died. A number of them performed a 'Death Dance' on the deck of the Mendi before she sank. In terms of South African casualties during the First World War, the Mendi incident was second only to the Battle of Delville Wood.
The relevant Commonwealth War Graves Commission Register transposes the surnames and first names of the majority of Black casualties and lists a number by first name only. By comparing this register, the Roll of Honour in the book Black Valour by Norman Clothier, and the official Mendi casualty list from the Department of Defence Documentation Services, certain discrepancies were found that required further investigation. The attestation cards of the Mendi casualties and the Mendi embarkation list were then scrutinised at the SANDF Personnel Record Archives. Cases where still further investigation was needed were referred to Sotho and Xhosa language and cultural consultants. One of the valuable insights was the Xhosa reluctance to call a person's name out loud, thereby raising the possibility of noms de guerre having been used.
Examples of the difficulties encountered in the compilation included the case of Isaac Dyhoba (Dyoba?), who is reputed to have led the 'Death Dance' before the ship sank, and who is listed in all of the sources as Isaac Wauchope. Various factors make it unlikely that an accurate roll of the Mendi casualties can be compiled. These include our insistence on the correct spelling of names of persons and places being a relatively recent phenomenon, unfamiliarity with African orthography, the level of illiteracy amongst SANLC recruits and the possible use of noms de guerre. In at least some cases, therefore, the man and his sacrifice will have to be remembered rather than his correct name.
There are memorials in New Brighton, Port Elizabeth; Rondebosch, Cape Town; Gamothaga Resort in Atteridgeville and the Avalon cemetery in Soweto, the latter having been unveiled by the Queen in 1995. There are also memorials in Southampton, UK; Delville Wood and the Netherlands. Two South African Navy vessels also commemorate the event; the Valour class corvette, SAS Mendi, and the Warrior-class strike craft SAS Isaac Dyobha.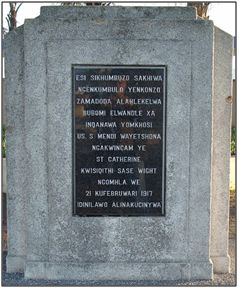 The Mendi Memorial in New Brighton, Port Elizabeth.
It has regrettably been vandalised inthe past.
Photo: Public Domain
Major engagements in March 2017
While probing and skirmishing continued on the Western Front, March 1917 was a time of significant battles on the two Middle East Fronts.
The Mesopotamian Front
Fresh from the successful capture of Kut and the opening of the road to Baghdad (see Newsletter 147), Allied forces moved towards this southern capital of the Ottoman Empire on 5th March. Notwithstanding the support of the Deutsche Luftstreitkräfte (German Army Air Service), the indecisive Turkish commander, Khalil Pasha, failed to take advantage of the circumstances offered him and on 10th March evacuated Baghdad, which the Anglo-Indian troops occupied without resistance the next day, taking 9 000 prisoners. General Frederick Maude, the Allied commander, barely paused before continuing on to the railway centre of Samarrah about 130 km to the north.
What became known as the Samarrah Offensive commenced on 13th March 1917. This incorporated the relatively minor subsidiary Battle of Islabulat(which commenced on 15th and lasted six weeks until called off until the following autumn) and the seizure of Falluja (which was to experience major battles in 2003 and 2016) on 19th March. This prevented the Turks from flooding the plains and severely hampering the Allied advance.
Forming part of the Samarrah Offensive, the Battle of Jebel Hamlin opened on 25th March in an attempt to prevent Khalil being reinforced by Ali Ishan Bey's troops retreating from Russian operations in Persia. Unbeknown to both the Allies and the Turks, however,the Russian Revolution had broken out and Russian troops, lacking commitment to further fighting were no longer a threat to the Ottomans, who were able to entrench themselves well. The British attack at Jebel Hamlin was consequently a failure. The Samarrah Offensive, while encompassing a steady advance, was costly to the allies with 18 000 casualties and a further 40 000 losses due to sickness. This resulted in a suspension of the advance on the Mesopotamian Front as there were no further reinforcements available from the Western Front.
The Coastal (Palestinian) Front
With the Turkish forces forced from the Sinai Peninsula (See Newsletter 143) and Allied forces advancing along the coast, the First Battle of Gaza opened on 26th March. Due to misguided decisions by both General Archibald Murray, the Allied Commander, and General Friedrich Kress von Kressenstein, the German commander of the Ottoman troops, the battle ended in a stalemate. Murray however portrayed it to London as a victory and was consequently ordered to launch a further assault with the target being Jerusalem itself. The second time round, he found the Turks ready and waiting.
Compiled from: http://www.firstworldwar.com/battles/all.htm
Websites of interest/Webwerwe van belang
Historic guns
Refurbishing and Firing a Cannon
Swallow Forge You Tube 24th February 2017
https://www.youtube.com/watch?v=APDRVvzihG8&feature=youtu.be
Ships
Queen Elizabeth Class Aircraft Carriers
http://www.royalnavy.mod.uk/news-and-latest-activity/features/equipped-for-the-future
World War I
Minifig Battlefields recreates epic WWI battles with LEGO and 3D printed dioramas
www.3ders.org 17th February 2017
http://www.3ders.org/articles/20151217-minifig-battlefields-recreates-epic-wwi-battles-with-3d-printing-and-lego.html
World War II US veteran reunited with World War Two dog tag
BBC News 11 February 2017
http://www.bbc.com/news/uk-england-suffolk-38935677
Royal Navy divers destroy 500lb wartime ordnance found during Queen Elizabeth carrier dredging
Navy Books 22/02/2017
http://www.royalnavy.mod.uk/news-and-latest-activity/news/2017/february/22/170222-royal-navy-divers-destroy-500lb-wartime-ordnance?utm_source=Website+Subscribers&utm_campaign=1bdd87b7fc-
EMAIL_CAMPAIGN_2017_02_15&utm_medium=email&utm_term=0_d64f016b1a-1bdd87b7fc-183351293&ct=t(24_Feb2_15_2017)&mc_cid=1bdd87b7fc&mc_eid=2e391dd6d7
Nazi submarine wreck immortalized in cinema found in Atlantic Ocean
Tom Hale IFL SCIENCE 6th February 2017
http://www.iflscience.com/editors-blog/nazi-submarine-wreck-immortalized-in-cinema-found-in-atlantic-ocean/
Resource materials of military historical interest/
Bronmateriëel van krygsgeskiedkundigebelang
PLACES
Military Vehicle displays at Sandstone Estates
See Stars of Sandstone 2017 Newsletter XIV pp 5 & 6
http://sandstone-estates.com/images/pdf/Sandstone_NL14.pdf
ARTICLE A fascinating article, 'The epic journey of Jack Wenlock (How to get to South Africa the hard way)' by Don Bell has been published in the PE SAAF Museum Ox-Box 20 January 2017.
ONLINE RESOURCES
Forces War Records have made available five very useful tutorials. These will be most useful to those with relatives/ancestors in the British armed forces, but also have wider application.
Understanding your ancestor's military record The details of your ancestor's record made easy
http://forces-war-records.s3.amazonaws.com/Marketing/FWR+Understanding+your+ancestor%27s+record.pdf
Breaking down brick walls Historian Simon Fowler gives his top 10 tips to get your family tree started
http://forces-war-records.s3.amazonaws.com/Marketing/FWR+Breaking+down+brick+walls.pdf
Reality of war: Trench traumas + medical miracles If your ancestor was wounded in WW1, this is what his medical journey would have been like
https://www.forces-war-records.co.uk/free-tutorials?sessionId=341258&sessionToken=77791649f81fd36f
How to trace your POW ancestor If your ancestor was taken a prisoner, what would have happened to him?
http://forces-war-records.s3.amazonaws.com/Marketing/FWR+How+to+trace+your+POW+ancestor.pdf
Quick guide to requesting WW2 records How to get hold of your WW2 ancestor's record?
http://forces-war-records.s3.amazonaws.com/Marketing/FWR+Guide+To+Requesting+WW2+Records.pdf
NUWE BOEK
De Wet Con Hattingh Leon & Visagie Jan (reds) 2016 Die VOC aan die Kaap 1652 – 1795 Pretoria Protea Boekhuis
'n Versameling van die geskiedkundige werke van 17 bekwame suid-Afrikaanse en Nederlanseskrywers. Dit sluit in a wye verskeidenheid onderwerpe entemas, van gesonheidsdienste en onderwys tot verdediging en die ekonomie, sowel as sake van die dag soos die posisie van die Kaapse Khoina, slawerny en vryburgergemeenskappe. Dit beloof om 'n uitsteekende en vibrerende lees te wees.
E-BOOK
An earlier (2009) book, Above Board and Under Cover has now published as an e-book.
By way of information the author, Ivor Little a member and past chairman of the SAMHS, writes:
Some of you may remember that way back in 2009 I wrote a book titled Above Board and Under Cover.  Some of you even bought it, and I must thank those of you who really battled to get hold of a copy when the original publisher went bankrupt.  The book received very favourable reviews from the literary section of the Pretoria News; the international shipping magazine Sea Breezes; the journal of the SA Military History Society; and the newsletters of the SA Society of Master Mariners; the SA Naval Officers Association; SATS General Botha Old Boys Association and the SA Ship Society.
Possibly because of this, I was approached by another publisher for permission to republish it on line, as an e-book at R100 a copy.  This has now been done and the book has started selling.  I thought that with this in mind there might be a number of my friends and family who might be interested in reading of my experiences at sea, and in some dicey shore jobs from a young lad to a senior naval officer.  A synopsis and details of the book can be found at www.rapidttp.co.za/books or
www.rapidttp.co.za/books/aboveboard.html
Here is a review of the original book which appeared in the SA Ship Society journal Flotsom and Jetsom. 
I found this to be one of those books that it is difficult to put down once you start because you always want to see what is coming next.  It takes you through the author's life in the Merchant Navy, with a slight detour into the world of commerce as a trainee manager at Greatermans and running an ice-cream parlour! He was then invited to join the South African Navy and, over the years, undertook various postings overseas, all "above board" except for a diplomatic posting which was "under cover".  He served in the Defence Force during the transition period and later the Defence Secretariat at a high level before retiring at the age of 60. It was then back to sea as a relieving Master in a number of vessels well known to Ship Society dock rats, until eventually 'swallowing the anchor'. His easy reading, humorous style of writing and commitment to detail brings personalities and activities to life, while his descriptions of ports and cities visited would put many a travel writer to shame.
Members are invited to send in to the scribes, short reviews of, or comments on, books, DVDs or any other interesting resources they have come across, as well as news on individual member's activities. In this Newsletter, there have been contributions by Richard Tomlinson, Malcolm Kinghorn, Barry Irwin, Peter Duffel-Canham and Michael Irwin.
Chairman: Malcolm Kinghorn: culturev@lantic.net
Secretary: Franco Cilliers: Cilliers.franco@gmail.com
Scribes (Newsletter): Anne and Pat Irwin: p.irwin@ru.ac.za
Society's Website: http://samilitaryhistory.org
TAILPIECE: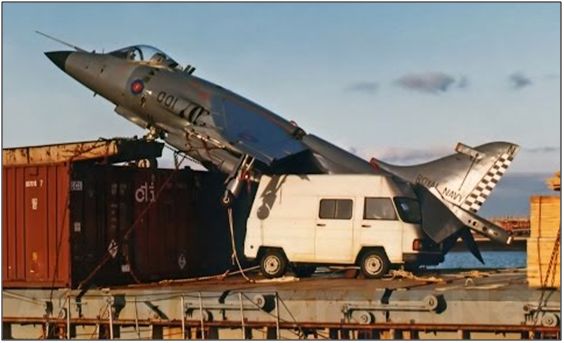 For further details see:
https://www.warhistoryonline.com/war-articles/out-of-fuel-pilot-landed-on-a-container-ship.html
Chairman: Malcolm Kinghorn: culturev@lantic.net
Secretary: Franco Cilliers: Cilliers.franco@gmail.com
Scribes (Newsletter): Anne and Pat Irwin: p.irwin@ru.ac.za
Society's Website: http://samilitaryhistory.org
---
South African Military History Society / scribe@samilitaryhistory.org