SOUTH AFRICAN MILITARY HISTORY SOCIETY EASTERN CAPE BRANCH
SUID-AFRIKAANSE KRYGSHISTORIESE VERENIGING OOS-KAAP TAK
Newsletter/Nuusbrief 145
October/Oktober 2016 SAMHSEC's September meeting took place on the 12th at the usual venue in Port Elizabeth.
The members' slot, presented by Alec Grant, was a sequel to his talks on Dr James Barry and Sir Roger Casement delivered in May and July respectively. The first part was to create an awareness of the recently published book titled Dr James Barry: A woman ahead of her time by Michael du Preez and Jeremy Dronfield, and the many years of research involved in its production. The update on Roger Casement highlighted that it has taken 100 years for the Casement family to finally attend a ceremony in his honour.
The curtain raiser, Bullet Proof Vests, was presented by Franco Cilliers. The hope of soldiers through time has always been to engage the enemy and survive the encounter. This need to survive has led to the development of body armour through the ages. The rise of gunpowder weapons made the use of body armour obsolete, however, as the weight needed for protection became too much for the average soldier to carry and still be effective in combat. Attempts to do so were nonetheless still made, as illustrated below, by the Australian outlaw, Ned Kelly.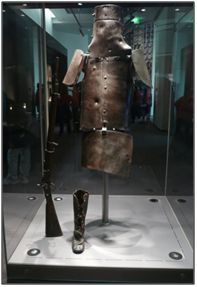 Kelly's armour on display in the State Library of Victoria, Australia.
Weighing 44kg, the helmet, breastplate, back plate and shoulder plates
show a total of 19 bullet marks.
Attempts were made during the First World War to develop bullet proof vests and armour. The German 1918 body armour,weighing about 10kg,is an example that was intended to be used by troops in static positions such as machine gunners and sentries. The armour was proof against shrapnel and rifle rounds fired from a distance greater than 500m.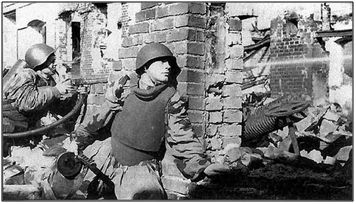 Russian WW2 SN-42 Body Armour
During the Second World War, the Russians widely issued SN-42 armoured breast plates to assault engineers and some tank infantry units. It was proof against 9mm parabellum rounds and weighed 3.5 kg.
During the two World Wars and the Korean War it was established that 70% of casualties were caused by shrapnel, which led to the development of a vest that would protect soldiers against it. This resulted in the development of the M1951 Flak Jacket weighing 3.5kg and made of ballistic nylon. The M1951 was followed up by the M69 Flak Jacket which weighed 10kg and provided better protection. It was used during the Vietnam War.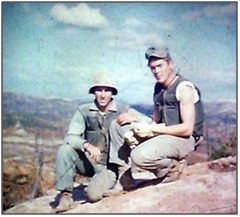 M1951 Flak Jacket Korean Era
With the rise in the use of body armour a standard needed to be created against which to measure the various vests in production. This is reflected in the table below.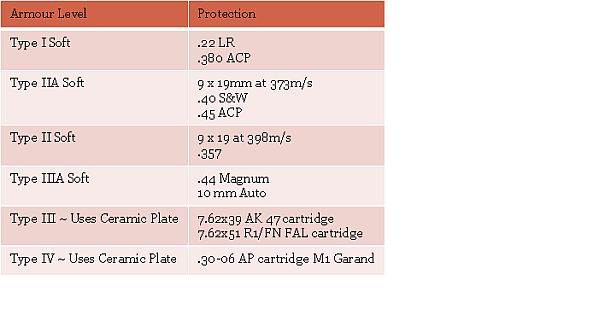 Source: National Institute of Justice Bullet Proof vest standards.
The successor for the Vietnam era M69 vest was the PASGT system (Personnel Armour System for Ground Troops) which introduced the well-known 'fritz' helmet used by U.S. troops. This was introduced in the 1980s. The vest and helmet used Kevlar material in its construction and provided protection against both shrapnel and pistol rounds. The vest weighed between 3.2kg and 4.9kg, depending on the size.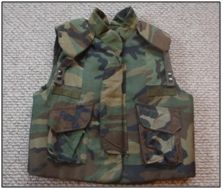 A PAGST 'flak jacket'.
The PASGT was replaced by the Interceptor Body Armour (IBA) which gave better protection with less weight. It initially weighed 3.8kg for the medium size, but with all of the armouring additions the weight would climb to 15kg. The vest was designed to give protection up to Type IIIA without the addition of ceramic plates. With the addition of ceramic plates the protection climbs to Type III or Type IV depending on the plate.The ceramic plates used to improve the vest are made of boron carbide. The plates weigh about 1.82 kg per plate for the Type III plates and 2.5kg per plate for the Type IV protection.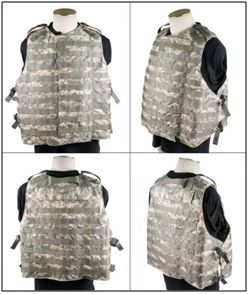 Interceptor Body Armour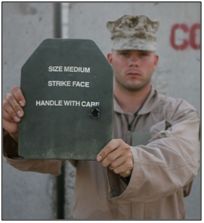 Type IV SAPI plate hit by AK-47 Bullet
The IBA vest was replaced with the Improved Outer Tactical Vest (IOTV) which was lighter, weighing only 13.6kg including all the armouring additions. This vest also featured a hidden cord to pull so that the vest would fall apart, enabling easier access for medics to work on casualties.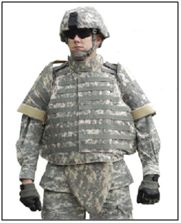 IOTV with all armour additions.
The United States is currently working on a successor to the IOTV which will be lighter and more modular. Most of the world's militaries employ body armour today and all have largely followed a similar development path.
Illustrations have been sourced from the Internet.
The main lecture, Experiences flying Mirage Jets for the SAAF during the Border War, was given by Wayne Westoby. A full report will be included when it is received.
SAMHSEC field trip to the Noupoort and Middelburg districts
A group of sixteen SAMHSEC members, under the able leadership of Ian Pringle, met at the Railway Institute Restaurant in Noupoort on Friday 23rd September. This was the start of an extensive tour of Noupoort, Middelburg and surroundings to explore sites relating to various Anglo-Boer War activities. Peter Barnes-Webb, supported by Willem Loods, provided a fascinating introduction to the development of Noupoort and its importance both as a transport centre and hub of communication during the Anglo-Boer War. The group also visited various structures built by the British army, including a unique blockhouse, as well as the military cemetery.
This field trip again proved the value of visiting such places and the sites where various activities took place to gain a clearer perspective and appreciation of the physical conditions under which the Boers and British soldiers engaged with each other. Sites visited on Saturday included Wolwefontein, where the incident of the 'runaway train' occurred; the Kuilsfontein kopjes; and Vaalkop, where events during December 1899 and early 1900 took place.
Sunday morning began with a stop at the site where Gideon Scheepers ambushed a British train at Welvanpas, followed by a brief visit to the Historical Cemetery in Middelburg. Here the group met Don Watt-Pringle and Hubert Vorster of the Heritage Foundation. This Foundation recently renovated the cemetery, including the provision of a secure entrance to prevent damage caused by domestic animals grazing there. Society as a whole owes this organisation a great deal for the excellent work they do in preserving historical sites for future generations.
A visit to the Stoel Monument, where Johannes Lotter and Pieter Wolfaardt were executed by the British, preceded a trip to The Willows, a farm which had served as a store and outpost when it was raided by Fouche and Theron, resulting in the death of eight members of the Middelburg Town Guard. The group then followed the path of the 9th Lancers across the Compass Berg range, where the Cape Rebels had sought refuge near the end of the war. The grave of Colonel Walter Kingwill, MP for Walmer from 1966, was also visited.
SAMHSEC is indebted to the indefatigable Allen Duff, who swept the group from one site to another, providing enthusiastic and detailed accounts of the action at every stop. Members were accommodated at the Welvanpas Guest Farm, which is warmly recommended for its hospitality.
Future meetings and field trips/ Toekomstigebyeenkomsenuitstappe
The next SAMHSEC meeting will be on Monday 10thOctober 2016 at 19h30 at the Eastern Cape Veteran Car Club in Conyngham Road, Port Elizabeth. John Stevens will utilise both the curtain raiser and the main lecture slots for his talk on The first day of the Battle of the Somme, 1916.
Matters of general interest / Sake van algemene belang
Individual members' activities / Individuelelede se aktiwiteite
Pat and Anne Irwin recently visited the Donkerhoek (Diamond Hill) battlefield east of Pretoria. The site, including the British graves, falls within the Kleinfontein Kultuurdorp. It is well maintained, signposted and is readily accessible.
Possible KZN Branch visit to the Eastern Cape
Some of the members of the KZN Branch of the SA Military History Society are considering a possible field trip to the Eastern Cape in 2017. If it materializes, some SAMHSEC members may be interested in participating and/or offering their services with a lecture or a briefing at some of the sites they might wish to visit. At present this is just an idea, but this Newsletter will keep you updated on any developments or firming up of the idea.
50th Anniversary of the SA Military Society
The following invitation has been received from Jan-Willem Hoorweg, our National Chairman:
As you know, we are celebrating our 50th anniversary as a Society this year. We have decided to celebrate this milestone in style with a luncheon on the 16th of October at the Museum in Saxonwold.
  If anyone wishes to attend and represent SAMHSEC, please contact Jan-Willem directly at Cell 082 557 0047.
Teaching military history at universities – a debating point
A recent article entitled 'Universities Should Bring Back Military History' published in Intellectual Takeout on 15th August 2016 raises some interesting points. Although it is an American perspective, one might ponder on what relevance the idea might have in South Africa;what sort of reception it would have from various sectors of the population; how it might be conceptualised; and how it might be taught. There is certainly a wealth of material and resources, both national and international, on which to draw. The full article is at: http://www.intellectualtakeout.org/blog/universities-should-bring-back-military-history
Comments and/or opinions with respect to the above are welcomed, and will be included in the Members forum, anonymously if you wish.
World War I Centenary Years / Eerste Wêreldoorlog Eeufeesjare
Major engagements in October 2016
The Eighth Battle of the Isonzo took place from 10th-12th October and was essentially a continuation of the attempts made during Seventh Battle to extend the bridgehead at Gorizia achieved in the Sixth Battle of Isonzo. (See Newsletters 143 and 144). Like the Seventh, it had limited success and Italian casualties were high.
Websites of interest/Webwerwe van belang
Historic aircraft
A-10 Warthog Live Fire Training Mission – awesome sound!
War History Online 14th August 2016
https://www.warhistoryonline.com/military-vehicle-news/a-10-warthog-live-fire-training-mission.html?utm_source=getresponse&utm_medium=email&utm_campaign=warhistoryonline&utm_content=%5BWar+History+Online%5D+Your+Daily+Dose
Early medieval war
The Viking sieges of Paris History Online 14th August 2016
https://www.warhistoryonline.com/medieval/vikings-sieges_paris.html
Arab raids on Rome: The Eternal City saved by 600-year-old wall
Willian Mclaughlin History Online 14th August
2016https://www.warhistoryonline.com/ancient-history/arab-raids-rome-eternal-city-saved-600-year-0-old-wall.html?utm_source=getresponse&utm_medium=email&utm_campaign=warhistoryonline&utm_content=%5BWar+History+Online%5D+Your+Daily+Dose
World War I
First Allied Victory of World War One – Battle of Mount Cer
History Online 14th August 2016
https://www.warhistoryonline.com/world-war-i/10-facts-about-the-first-allied-victory-of-world-war-one-battle-of-mt-cer.html?utm_source=getresponse&utm_medium=email&utm_campaign=warhistoryonline&utm_content=%5BWar+History+Online%5D+Your+Daily+Dose
WW1 German submarine to be protected by Britain
History Online 14th August 2016
https://www.warhistoryonline.com/world-war-i/ww1-german-submarine-protected-britain.html?utm_source=getresponse& utm_medium=email&utm_campaign=warhistoryonline&utm_content=%5BWar+History+Online%5D+Your+Daily+Dose
World War II
The crumbling giants of the seas: Eerie images of the abandoned coastal forts built 70 years ago to protect London during the Second World War
Emily Chan Mail Online 9th August 2016
http://www.dailymail.co.uk/news/article-3731706/The-crumbling-giants-seas-Eerie-images-abandoned-coastal-forts-built-70-years-ago-protect-London-Second-World-War.html?ito=email_share_article-top
The North African Campaign of World War II in pictures
Damian Lucjan War History Online 5th September 2016
https://www.warhistoryonline.com/world-war-ii/first-battle-el-alamein-defeat-desert-fox-shown-25-photos.html?utm_source=getresponse&utm_medium=email&utm_campaign=warhistoryonline&utm_content=%5BWar+History+Online%5D+Your+Daily+Dose
Of poets and the army
The short military career of American Poet, Edgar Allan Poe: Authority? Rules? Hierarchy? Nevermore!
The Vintage News 12th August 2016
https://www.thevintagenews.com/2016/08/12/6-historical-figures-kicked-school/?utm_source=getresponse&utm_medium=email&utm_campaign=warhistoryonline&utm_content=%5BThe+Vintage+News%5D+Your+Daily+Dose
Military executions
The recent SAMHSEC visit to the site of Johannes Lotter's execution by the British during the Anglo-Boer War brought the following executionsto mind.
Hannah Szenes, Hungarian patriot and British SOE operative
http://www.executedtoday.com/2008/11/07/1944-hannah-szenes-who-gambled-on-what-mattered-most/
Louis Harris and Ernest Jackson, the last British soldiers shot at dawn on 7th November 1918.
http://www.executedtoday.com/2013/11/07/1918-louis-harris-and-ernest-jackson-the-last-british-soldiers-shot-at-d awn/
Richard Sorge and Hotsumi Ozaki
November 1944http://www.executedtoday.com/2007/11/07/1944-richard-sorge-and-hotsumi-ozaki/
Resource materials of military historical interest/
Bronmaterieel van krygsgeskiedkundigebelang
WEBSITE SERIES
For those interested in the evolution of military aircraft design, the following sequence of websites will be of interest. The Boulton& Paul Aircraft Company produced a series of technically successful aircraft, few of which ever entered production. One of the exceptions was the Defiant which found a successful niche as a night-fighter during the 1940-41 London Blitz.
The source of this material is John Rickard's HistoryofWar.com June 2016 and July 2016 
The Boulton & Paul P.3 Bobolink was the company's first internally designed aircraft, and was produced in response to a competition to replace the Sopwith Camel.
The Boulton & Paul P.7 Bourges was a promising design for a fighter-bomber that was produced in 1918, and disappeared after the end of the First World War.
The Boulton & Paul P.10 was the first practical all-metal aircraft to be produced in Britain.
The Boulton & Paul P.11/ Type XXI was a design for a two-seat amphibian aircraft, produced in response to RAF Specification XXI.
The Boulton & Paul P.12 Bodmin was a large experimental multi-engined aircraft, produced to test out the possibility of mounting an aircraft's engines within the fuselage.
The Boulton & Paul P.15 Bolton was the first all-metal aircraft to be delivered to the RAF, and was largely based on the earlier Boulton & Paul P.7 Bourges fighter-bomber.
The Boulton & Paul P.25 Bugle was a further development of the P.7 Bourges and all-metal P.15 Bolton twin engined bombers, and was produced in small numbers as part of the Air Ministries attempt to keep as many aircraft companies working as possible with limited funds.
The Boulton & Paul P.27 was a further development in the company's family of twin engined bombers, and although it didn't get built itself, it did play a part in the development of the P.29 Sidestrand.
VIDEOS
A short but interesting 1940 propaganda film on the Bolton & Paul Defiant can be seen at:
https://www.youtube.com/watch?v=ce9My4IKydo
BOOKS
The Encyclopaedia of Weapons of World War II
https://www.academia.edu/28270871/THE_ENCYCLOPEDIA_OF_WEAPONS_OF_WORLD_WAR_II?auto=view&campaign=weekly_digest This 560 page 'e-book', published by Barnes & Noble of London in 1998 is a goldmine of detailed information, ranging in content from tanks to battleships. It is superbly illustrated with many of the diagrams in full colour.
MUSIC
Where have all the Flowers Gone
One of the great female vocalists of the 20th century, Joan Baez, sings a hauntingly beautiful version of this anti-war song in German. It can be heard
at:https://www.youtube.com/watch?v=HRhHpTRuBrk&list=RDHRhHpTRuBrk&index=1
Some may prefer the more martial video with accompanying song by Marlene Dietrich at:
https://www.youtube.com/watch?v=WEHeWd7GSO0or the thought provoking version by Pete Seeger (its composer) at: https://www.youtube.com/watch?v=1y2SIIeqy34
The German lyrics can be found at:
http://www.metrolyrics.com/sag-mir-wo-die-blumen-sind-lyrics-marlene-dietrich.html
For the background to the song, see:
http://performingsongwriter.com/pete-seeger-flowers-gone/
Katherine Jenkins, a Welsh singer and song writer has performed a number of tributes to fallen soldiers. Some of these are:
Requiem for a soldier https://www.youtube.com/watch?v=9Opg7LwUdPs
Hymn to the Fallen https://www.youtube.com/watch?v=PKU3b7rnvlQ
Band of Brothers https://www.youtube.com/watch?v=BKg1vMeaY5M
For more on Katherine Jenkins and her work see
https://www.google.com/?client=firefox-b-ab#q=Katherine+jenkins&gfe_rd=cr
Two musical pieces portraying the Battle of the Atlantic from opposite sides are:
Battle of the Atlantic (Part 1) The Flower Class Corvettes.
https://www.youtube.com/watch?v=fP5ELoUkU4M (4min 42 sec)
Battle of the Atlantic (Part 2) The Type VIIc U-Boat. Die AtlantikschlachtTeil II U- Boot Type VII C
https://www.youtube.com/watch?v=wgyA_GrFodQ(7min 08 sec)
Members are invited to send to the scribes, short reviews of, or comments on, books, DVDs or any other interesting resources they have come across, as well as news on individual member's activities. In this Newsletter, there have been contributions by Richard Tomlinson, Malcolm Kinghorn, Barry Irwin, Michael Irwin, Peter Duffel-Canham,Franco Cilliers and Peter Gouws.
Chairman: Malcolm Kinghorn: culturev@lantic.net
Secretary: Franco Cilliers: Cilliers.franco@gmail.com
Scribes (Newsletter): Anne and Pat Irwin: p.irwin@ru.ac.za
Society's Website: http://samilitaryhistory.org
TAILPIECE: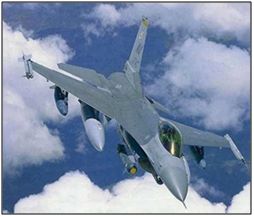 An F-16 fighter came across a C-130 Hercules flying somewhere near the American coast. The jet jockey decided to show off and contacted the C-130 pilot saying:
'Watch this!' and promptly went into a barrel roll followed by a steep climb. He then finished with a sonic boom as he broke the sound barrier.
The F-16 pilot asked the C-130 pilot what he thought of that.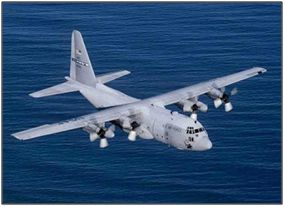 The C-130 pilot said, 'That was impressive, but watch THIS!'
The C-130 droned along for about five minutes and then the C-130 pilot came back on and asked, 'What did you think of that?'

Puzzled, the F-16 pilot asked, 'What the heck did you do?'
The C-130 pilot chuckled. 'I stood up, stretched my legs, walked to the back, took a leak, then got a cup of coffee and a cheese roll!'

Slower, Older and Smarter is the lesson….
---
South African Military History Society / scribe@samilitaryhistory.org