KWAZULU-NATAL BRANCH

Newsletter No. 481
March 2016
Contact:
Ken Gillings 031 702 4828 ken.gillings@mweb.co.za
Roy Bowman 031 564 4669 bowman.roy93@gmail.com

Our first speaker at the February 2016 meeting was fellow member Donald Davies, whose topic was entitled "Corporal John Joseph Davies VC, near Delville Wood".

Joseph Davies was awarded the Victoria Cross, along with his friend Albert Hill, following an action that took place on the 20th July 1916 in Delville Wood during the Battle for the Somme River. Joseph had joined up with the 1st Royal Welsh Fusiliers on 19 August 1909 and served in India where his father was mustered in the 7th Battalion. He ended up serving in three battalions of the Royal Welsh Fusiliers; the 1st, 3rd and 10th Battalions.

Early on the morning of 20th July 1916, the 10th Battalion was ordered to Delville Wood as part of a Campaign to push through the German lines. The Wood was heavily defended, and due to the presence of so many troops at close quarters, the order was given that there should be no firing. The presence of the large numbers of Germans made progress forward difficult. At a point in the attack, Davies and eight men became separated from D Company, the leading Company of the RWF, and then became surrounded. The group took cover in a shell hole, and by bombing the enemy and using rapid fire they managed to drive off them off. After a pause in the fighting, Cpl Davies took charge of D Company, as the Officers had become casualties and lead part of this group forward again in attack. The enemy lines were 50 yards ahead, but due to the intense fire from the German lines, D Company had to retire some 150 yards. Cpl Davies however kept tight control on the reserves in the trenches, and they held this line until they were relieved. In this action the casualties suffered by the RWF were 180 men including 50 missing.

Davies citation for most conspicuous bravery was published as follows: "Prior to an attack on the enemy in a wood, he became separated with eight men from the rest of his Company. When the enemy delivered their second counter attack his party became completely surrounded, but he led them into a fox hole and by throwing bombs and opening rapid fire, succeeded in routing them. Not content with this he followed them up and bayoneted several of them.
Corporal Davies set a magnificent example of pluck and determination. He had done a very gallant work and was badly wounded in the second battle of Ypres."

Davies was born the son of John and Annie Davies on 28 April 1889 at Tipton village in Staffordshire, England. His family, which included brothers and sisters, lived nearby in Wednesbury town, where he attended school. The 1st RWF returned from India in late 1914 and were involved in the fighting at the second battle of Ypres the following year where Davies was wounded for the first time. In July 1915 he was wounded a second time when the knuckles of both hands were smashed by German bayonets. Due to the severe injuries that he sustained during the Great War, he was unable to return to his former job at the Colliery and he was employed as a commissionaire by the Birmingham Corporation Gasworks.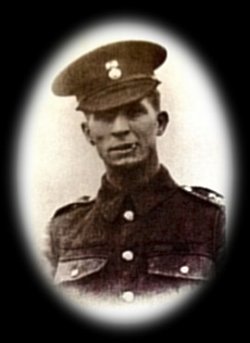 J J Davies VC
Davies passed away on 16th February 1976 at the age of 86. He was cremated in Bournemouth without a service being held and his ashes were scattered at Evening Hill, overlooking the harbour in the town of Poole. Davies and Hill are commemorated in Delville Wood with a memorial provided by the RWF.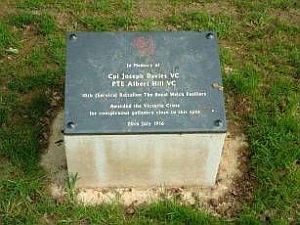 Memorial
The importance of Davies qualifying for the highest decoration for bravery was not limited to the man, but meant a great deal to the townspeople of his home town of Wednesbury. In the period leading up to and after the Battle of the Somme, Zeppelin Airships made about 51 bombing raids on England. These killed 557 and injured another 1,358 people. Wednesbury was one of those Towns that suffered such a fate on 31 January 1915. The dead numbered 13 Persons and they were buried in a grassed area in Wood Green Cemetery.
Since everyone would have known someone in a family who would never return from the front line, this event, coupled with the terrible news of the fallen on the first day of 'The Somme', must have resulted in the morale of the Wednesbury townsfolk being at an all time low, so the return from the front line of a local hero to Wednesbury was one bright spark in the darkness of such a fateful year.
The Main Talk was presented by Dr Anthony Zaborowski, a prominent Durban Ophthalmologist. His talk was entitled: "The Polish Africans of World War 2".
The story of the Polish refugees of World War II is a complex and fascinating part of the history of Europe which has largely been overlooked by historians. Thousands of displaced Poles were deported to Siberia by the Russians in 1941 and ultimately took refuge in former British colonies in Africa after being afforded the protection of the British Empire. As a result of the events of World War 2, as well as centuries of conflict with between Poland and her neighbours, the Polish Diaspora is one of the largest of all nationalities.
Anthony's first task was to take a snapshot of present day Poland:
The 71st largest country by area, 25% the size of SA.
A Population 39 million (SA 54 million).
A GDP of $1 trillion (SA $0.75 trillion).
Its human development index - 'very high'.
GINI coefficient - 'medium'.
Given the social, political and economic hardships of the last century, Poland's rise to a thriving, modern economy remarkable.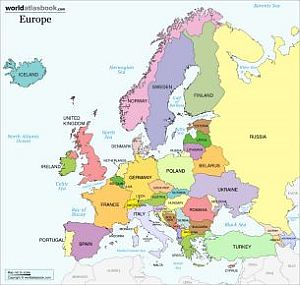 Map of Europe
He then proceeded to present a brief history of Poland:
First written history of Poland - 10th century.
Polish State established in 966.
Ruled by a dynasty – the Piasts.
Invaded by the Mongols in 1241.
14th century: the Teutonic Knights (fighting monks) invaded Poland, capturing the Northern city of Gdansk, renaming it Danzig.
The 14th to the 16th century was a period of great prosperity for Poland.
Kazimierz the Great (1333-1370) ruled, expanded into Russia and protected of Jews
1410 – Defeat of the Teutonic Knights (battle of Grunwald), reclaimed Gdansk.
Nicolaus Copernicus – 1473-1543 – model of the universe placing the Sun in its centre.
1560s - The Jesuits established freedom of religion and a network of schools and colleges.
1648 – Ukranian Cossacks rebelled against Poland, joined by the Russians.
1655 – The Swedes invaded and overran Poland - large part of the Polish population killed in these wars.
1673 – King Jan Sobieski defeated the Turks of the Ottoman Empire at the Battle of Vienna.
18th century: political and military decline.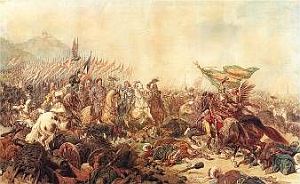 Battle
No central government in Poland - Prussia and Russia controlled Polish politics
1768-1772 – Polish uprising against Russian overlords crushed.
1795 – Prussia, Russia and Austria divided Poland between them - Poland ceased to exist
1807 – Napoleon turned parts of old Poland into the Duchy of Warsaw, a French satellite
1815 – after the Napoleonic Wars: Congress of Vienna – Poland again divided between Prussia, Russia and Austria.
Russian part: the Kingdom of Poland.
1830 – A Polish rebellion was defeated by Russian army.
Thereafter, mass emigration to France and North America.
1863 – Another rebellion crushed.
1916 - Russians driven from Poland by the Germans.
November 1918 – Germans expelled from Polish territory - the Poles reformed a government.
After WW1 the Allies decided that Poland should have access to the sea and gave it the 'Polish corridor' in the Treaty of Versailles, cutting off access between Prussia and Germany.
1919-1921: successfully fought a border war with Russia.
On the 1st of September 1939 Hitler invaded Poland. On the 17th of September 1939 Russia attacked Poland from the East. Ribbentrop-Molotov Pact: division of Poland between Germany and Russia. The purpose of the Russian invasion was the eradication of Poland and Polish culture. They began a process of systematic deportation of Polish people to Siberian labour camps, the NKVD (secret police) specifically targeting the Polish intelligentsia. Entire families and communities were packed into cattle cars, given 15 minutes to pack their possessions. Trains had no sanitation with one hole in the floor for 70 people to use. There was little food and snow was melted for water. Many died in transit – the weak froze or starved. The train journey to Siberia was 1 month long.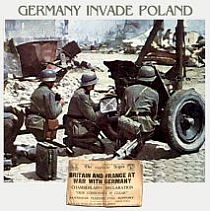 German Gunners
In all, 1.7 million Poles were deported to Siberia to the Soviet Gulags. 300,000 Polish soldiers were killed or deported and 1 third survived. The Gulags: the Soviet government agency that administered the forced labour camps of the Stalin era. The Gulag population in 1942 was 15 million. The Gulag mortality rate was very high – 25% of the Gulag population died in winter 1941. Economic role of the Gulag: Pre-WW2: Nickel, Tin, Cobalt, Chrome-iron ore, Gold, Timber. During WW2: Production of arms and supplies, roads. Productivity was half that of free labour due to malnutrition. Operation Barbarossa – June 1941. The German advance was so rapid that labourers could not be evacuated and many killed to prevent them from being useful to the Germans.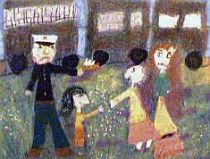 Policeman and children
Amnesty: Polish Gen Wladyslaw Sirkorski was the prime minister of the Polish government in exile and held substantial sway with Allied politicians. The Russians needed Allied support to deal with Germany. Sikorski re-established diplomatic relations with Russia and signed a treaty with them. The treaty allowing amnesty to Polish prisoners in Siberia and allowed the formation of a Polish Army in Russia - 80,000 Polish soldiers gathered in Uzbekistan to establish the army. (Sikorski died in July 1943 in a plane crash under mysterious circumstances.) Permission was granted (with Churchill's influence) for the Polish Army (Anders' Army) to leave the Soviet Union. Along with the troops a number of civilians were allowed out of Russia. In August 1942 - 3 large convoys crossed the Caspian Sea to Persia where British, Indian and American Armies assisted the malnourished soldiers and civilians on arrival. Many Polish prisoners had to walk out of Siberia in freezing conditions. Others found trains, trucks and even handmade rafts. They went south to Kazakhstan and Uzbekistan to meet the Anders Army. Many died of typhus, malaria and dysentery. Soldiers shared their rations with starving Polish civilians. Many undertook a 2-year journey from the arctic to Africa, transported by trains, river barges and trucks. Kazakhstan, Turkmenistan, Uzbekistan, across the Caspian Sea to Persia, train to India.
The Zaborowski Family: Jadwiga and Roman Zaborowski (senior). They were deported together to a forced labour camp in Siberia in 1941. Zosia Zaborowski had a child of a first marriage and lived with her mother. Her family fled to the Polish countryside and her grandparents and mother were maimed in bombings of the Polish countryside. Zosia ultimately made her way to the USA, worked as an academic and remains an active socialite in her early 90s. Roman Mscislaw Zaborowski was born 10 October 1941 on a train in Uzbekistan. His mother – Jadwiga – wet nursed other babies. They embarked on a convoy journey across the Indian Ocean to Mombasa, Kenya, Uganda and ultimately Northern Rhodesia.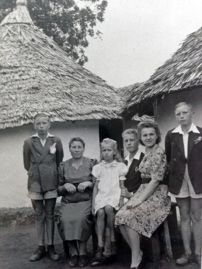 Family
Polish refugee settlements in Africa: Funded by the Polish government in exile in London. Many refugees were educated professionals. The settlements were formally governed. Clinics, schools and churches were soon set up. They were initially taught from memory and later from books from America and UK. They grew their own food and became self-sufficient. 18,000 went to Africa in 1942 and 1943. They were mostly women, children and teenage girls and sailed aboard British ships to ports in Kenya, Tanganyika and Mozambique. They dispersed to settlements in the British colonies of Uganda, Kenya and Tanganyika, and also to South Africa, North and South Rhodesia. There were 19 camps in total: Uganda – Masindi and Koya on Lake Victoria ; Kenya – Rongai, Manira, Makindu, Nairobi and Nyali ; Tanganyika – Tengeru ; Several smaller camps in other locations ; South Africa – Oudtshoorn. Little Polish enclaves were created with bakeries, gyms, open air theatres and farms. Many settlements were taken over by the African governments when the Poles left after the war, although many did not leave Africa.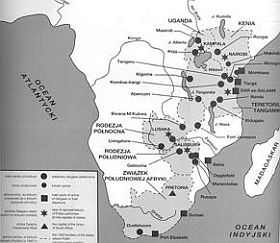 Map of Africa
Refugees in Mexico: Santa Rosa refugee colony, 300km North of Mexico City. There were 1434 refugees and many orphans. The Camp closed in 1943 and most of the occupants moved to Chicago.
Refugees in New Zealand: Pahiatua, North Island. There were 733 Polish children – mostly orphans - and 103 caregivers. It was a self-governing Polish camp 'little Poland' and was funded by the Polish government in exile and later by the New Zealand military. Joined by some adult family after the war and ultimately invited to stay permanently.
Katyn Massacre: A census carried out by the Polish authorities after 1941 could not locate any displaced Polish officers. April 1943 – the advancing German forces discovered mass graves Katyn in the Russian forests. The Soviets refused an investigation by the Red Cross Broke off diplomatic relations with Poland. Allied governments did not recognise this Russian atrocity – the public was deliberately misled. Katyn was taken off the agenda at Nuremberg on the insistence of the Soviets. 22,000 were killed; 8000 Polish Army officers, 6000 policemen, 8000 intelligentsia. The Soviets eventually confessed in 1990.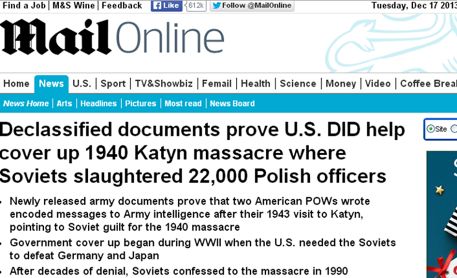 Katyn
Poland Betrayed: November 1943 - Stalin, Churchill and Roosevelt met in Tehran, areeing that Eastern Poland – invaded in September 1939 by Russia – would be officially recognised as Soviet. No Polish government representation at this meeting. Aug 1944 – uprising against the Germans in Warsaw: the Soviet army on the outskirts remained immobile, allowing the Germans to crush the uprising after 63 days. The Soviets then marched in and set up their own communist Polish government. At Yalta Conference (4-11 Feb 1945) – no Polish representation. Western Allies agreed with Stalin on the peaceful way forward for Europe and Poland was handed to the Soviets.
Post-war deportations and repression: Potsdam conference 17 July – 2 August 1945: Soviet Union (Stalin), UK (Churchill – later Attlee), USA (Truman). Provisional government of national unity in Poland recognised, Polish government in exile no longer recognised. New Polish borders – Curzon line and loss of Borderlands (Kresy) to USSR. Reparation claims from Poland would be settled from the Soviet allocation of reparations. After the war the UK recognised the communist Polish government. Polish soldiers were not invited to take part in the post WW2 parades in London
200,000 Polish troops were under British command and 50,000 civilians. Polish troops in England were encouraged to go home and 105,000 returned to Poland. Most were arrested or executed on arrival trumped up charges. The remainder settled in England, America and British colonies.
The considerable number of questions posed by the audience illustrated how intense this moving presentation was.
Committee Member Don Porter congratulated both speakers on their superbly researched, liberally illustrated and well presented talks.
NEXT MEETING
Thursday 10th March 2016: Darrell Hall Memorial Lecture: "PT Boats at the Guadalcanal" by Roy Bowman
Main Talk: "General C R de Wet at Bothaville" by Robin Smith
FUTURE MEETINGS:
Thursday 14th April 2016:
Darrell Hall Memorial Lecture: "From mirror shined boots to the spirit of the bayonet" by John Goodrich
Main Talk: "Iron Fist from the Sea" by Lt Col Douw Steyn
Thursday 12th May 2016:
Darrell Hall Memorial Lecture: "The Historiography of World War 1" by Dr Mark Coghlan
Main Talk: "Three Scouts of the Anglo-Boer War and their exploits" by Alan Townsend
Thursday 9th June 2016:
Darrell Hall Memorial Lecture: "The Emden" by Rob Crawley
Main Talk: "General CCJ Badenhorst in the Western Free State during the Guerrilla phase of the Anglo-Boer War" by Dr Arnold van Dyk.
2016 Subscription. This coming year the Society is going to have differential rates for the subscriptions viz:
R235.00 - for single rates.
R250.00 - for family members at the same address.
R117.50 - for 80yrs to 89yrs (half price)
Free for those over 90 yrs.
 To enable Joan to send out the correct invoices, members who wish to avail themselves of the discount subscription, are requested to submit a copy of their ID showing their ID number which reflects their date of birth, or e-mail her the first 6 digits of your ID. Please forward this to Joan Marsh at scribe@samilitaryhistory.org
2016 BATTLEFIELD TOUR.
Members are asked to indicate their preferences for the Branch's 2016 Battlefield Tour but e-mailing the Scribe, Ken Gillings on ken.gillings@mweb.co.za
APPEAL FOR SPEAKERS IN 2017.
We are short of speakers for 2017 and are appealing to members to share the fruits of their research with fellow members. The Darrell Hall Memorial Lecture is 20 minutes duration and the Main Talk 40 to 60 minutes. Please contact the Ken Gillings on ken.gillings@mweb.co.za if you'd like to present a paper or simply give us a talk on your favourite military history topic.
BERGTHEIL MUSEUM.
Please remember that the Branch has donated numerous books on military history to the Bergtheil Museum in Queen's Avenue, Westville. Our library is being regularly used by researchers, from schoolchildren to senior citizens. Use of the library is free and the Museum itself (which is situated in Jonas Bergtheil's original house) is a fine display of early occupation by Zulu, Indian and German settlers. Jonas Bergtheil brought out numerous German settlers to what was then Natal in 1848 and these industrious workers planted cotton on what they named Wandsbeck, after their home of origin. "Wandsbek" [sic] is the second-largest of seven boroughs that make up the city of Hamburg, Germany. The cotton project failed due to infestation of red mite, and most of the settlers crossed the Palmiet River and established a new settlement which they named New Germany.
VAALKRANS DEVELOPMENT
The SA Military History Society was approached to comment on a proposal to erect a water reservoir on the Free State Commandos' positions during the Battle of Vaalkrans (5th to 7th February 1900). We opposed the plan and put forward some possible alternatives. At a highly successful meeting that was held in Hilton on the 9th December 2015, attended by Branch Chairman Roy Bowman and Committee Member Ken Gillings, a compromise was reached and it has become a win-win situation for everyone. The reservoir will be constructed underground behind the Boer trenches and it will now include a viewing platform with a diorama of the Battlefield.
ANNUAL GENERAL MEETING
Members are reminded that the Branch AGM will be held prior to the Darrell Hall Memorial Lecture at the meeting on the 14th April 2016. Please send your nominations or your offer to serve on the Committee to Ken Gillings via e-mail to ken.gillings@mweb.co.za
The present committee comprised the following members:
Roy Bowman (Chairman)
Lt Col Dr Graeme Fuller (Vice Chairman)
Don Porter (Honorary Treasurer)
Maj Dr John Buchan
Dr John Cooke
Prof Philip Everitt
Ken Gillings
Maj Gen Chris le Roux
Charles Whiteing.
---
South African Military History Society / scribe@samilitaryhistory.org