KWAZULU-NATAL BRANCH

Newsletter No. 480
February 2016
Contact:
Ken Gillings 031 702 4828 ken.gillings@mweb.co.za
Roy Bowman 031 564 4669 bowman.roy93@gmail.com

We had the privilege of welcoming a team of three presenters from Glenwood High School to our first meeting of 2016. They were Austin Brummer, Gareth Newton and Lindelwe "Tank" Cele. All 3 boys are in the 1st XV rugby training squad and they were under the auspices of their teacher, Kevin Jordan, who introduced them to the audience. Each pupil was given an opportunity to speak, which they did with confidence and aplomb.

It is nowadays hard to believe that Natal was a backwater in the late nineteenth century, isolated to a large extent from the rest of South Africa. Until the railway to Johannesburg was completed in 1895, the only viable route of communication and transport was by sea.

Not only was Natal "the last outpost of the British Empire", it was a dangerous place to settle. The numerous wars meant that British regiments were posted to the Colony on a rotational basis as the local settlers were too few in number to defend themselves. The 45th Regiment (1st Sherwood Foresters) were the first to be garrisoned in Pietermaritzburg from 1843-1859 and their legacy lives on to this day in the 45th Cutting and the suburb of Sherwood in Durban.

Rugby had been introduced in the Cape as early as the 1860s by the Headmaster of Bishops, the Reverend Canon George Ogilvie but had a slower start in Natal. In 1870 Pietermaritzburg High School (now Maritzburg College) played a game against Hermannsburg School after they had made a 2 day trip by oxen wagon. As others schools in the Midlands opened, so they introduced rugby into their programmes. The students of Hilton College, Bishops (now Michaelhouse) and Weenen County College all took to the game immediately.

The first local club to form was Wanderers (Pmb) who played against the officers and men of the Inniskilling Dragoons in 1890 although an inter-town match between Durban ('the seaport") and Pietermaritzburg had been played on 10 August 1889. The Natal Wasps were formed in Durban in 1877 but did not last long; the Durban Rugby Club was formed in 1886 which, through various amalgamations down the years, still exists in the form of College Rovers.

The Murray Cup was first contested in 1890 when Savages (Pmb) won the trophy. The following years would be dominated firstly by the York and Lancashire Regiment who won it in 1891, 1892 & 1894. This was followed by the Duke of Wellington's (West Riding) Regiment who won from 1895-1897. So dominant were the army side that 15 of the 17 players selected to represent Natal at the Currie Cup in 1895 were soldiers! Hilton College (1898) and Maritzburg College (1900) are the only schools to have won the Murray Cup, albeit with the help of some masters! It was not uncommon at this time for schoolboys to be selected for the Natal team.

In the 1890s Durban's contribution to the promotion of rugby in Natal was minimal although the Durban RFC participated in the Murray Cup in 1897and did win it in 1899; however this would change after the Anglo-Boer War. Several new clubs started, although not all would last the pace. In 1902 Durban Wanderers and the New Zealanders formed; in 1906 Rovers RC and Old Collegians (Durban). They enjoyed immediate success with the New Zealanders winning the Murray Cup from 1904-1906, Durban Collegians in 1907, 1912 & 1914 and Rovers in 1909 & 1913. In the meantime DHS started playing rugby in 1910 under the watchful eye of A.S. Langley. The first schoolboy game of rugby played in Durban however, involved the Berea Academy and the Boys Model School in 1907, both of which closed soon afterwards.

However, war clouds were looming on the horizon and this would have a huge effect on rugby in Natal. At the end of the 1913 season it was reported that there were 236 registered rugby players in Durban; Rovers (66), Old Collegians, Durban (57), DHS Old Boys (45), Wanderers (37) and Durban RC (33). They would play a heavy toll in WWI, with 44 of them making the supreme sacrifice, as recorded in the DRSU minute book of 1919.

Rovers lost 10 members and would join Durban RC to form Durban Rovers after the war; Durban Wanderers lost at least 3 members and would not be able to put a team back on the field until 1924.

At least 8 Natal players would lose their lives in WWI, several of them having represented their province in more than one sport. Edward William Barnes and Arthur Dudgeon Geoghegan both played rugby and water polo for Natal whilst Karl Otto Siedle (Weenen County College) played cricket and rugby for Natal. In his will Karl left money to the Union and thus the Karl Siedle Memorial Clock and Tower was built on the embankment at Kingsmead. Although moved when the stadium was upgraded for the 2003 Cricket World Cup, it is still in the grounds.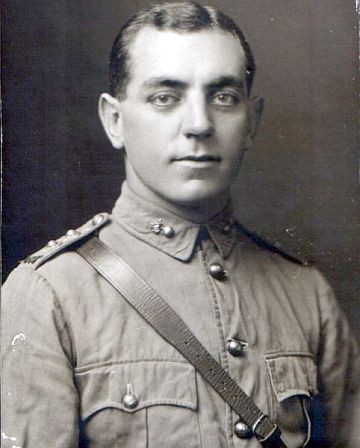 Karl Otto Siedle
John Roderick MacLeod, a Scotsman by birth, played rugby for Durban Wanderers and Natal and was killed just 2 months before the end of the war. He won the Distinguished Conduct Medal for conspicuous gallantry and devotion to duty. His citation in the London Gazette Supplement of 21 October 1918 reads:
"For six months this man has performed continuous good work as a stretcher-bearer. He has at all times and especially during heavy fighting, rendered prompt assistance to the wounded and undoubtedly been the means of saving many lives."
Other Natal players to lose their lives were Basil FLACK (Michaelhouse), Frank JANION (Escourt H.S. & Michaelhouse), Robert MILLER (Maritzburg College) and Arthur STAINBANK (Michaelhouse).
NAME
CLUB
NATAL
1.
BARNES, Edward William
(Natal Water polo)
Durban R.F.C.
1908 / 1909
2.
FLACK, Basil John Ingleby
(Michaelhouse)
Maritzburg Wanderers
1911
3.
GEOGHEGAN, Arthur Dudgeon
(Natal Water polo)
Durban R.F.C.
1909
4.
JANION, Frank Trenbath
(Michaelhouse)
Dundee, Hilton College, Rovers R.F.C.
1911 / 1914
5.
MacLEOD, John Roderick
(Michaelhouse)
Durban Wanderers
1911 / 1914
6.
MILLER, Robert Gibb
(Maritzburg College)
Old Collegians, Maritzburg.
1908
7.
SIEDLE, Karl Otto
(Weenen County College)
(Natal cricket)
Old Collegians & Durban Collegians
1909 / 1914
8.
STAINBANK, Arthur Reeve
(Michaelhouse)
Rovers R.F.C.
1912 / 1914
The Main Talk was presented by Mr Adrian Nesbitt and entitled "The von Blücher Brothers and the Invasion of Crete".
The three von Blücher brothers were members of Germany's elite Fallschirmjäger (paratroops). The family, whose famous name did not bring them wealth, came from the small village of Fincken, halfway between Berlin and Rostock. Their father, Count (Graf) Adolf von Blücher owned large estates and a grand country house in Fincken, but he died relatively young when his children were still very young. Thereafter, the family was forced to leave the house as the money ran out and although the extensive land holdings remained in trust for the eldest son, the family lived in a succession of rented houses during the 1920s and 30s.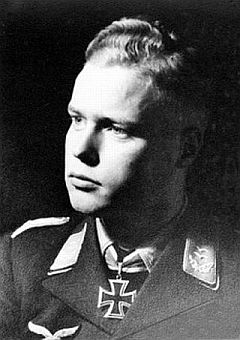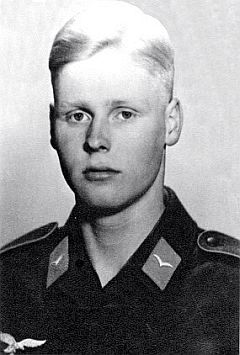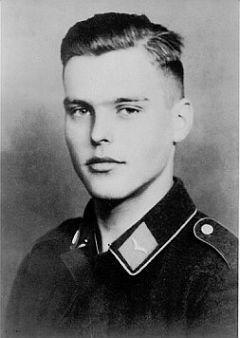 Graf Wolfgang ........................................ Graf Lebrecht ................................ Graf Hans Joachim
There were four sons: Graf Wolfgang, Graf Lebrecht, Graf Hans Joachim (shown above) and Graf Adolf. Adolf became a navy aviator. Wolfgang transferred to the Fallschirmjäger from the reserve cavalry regiment he had joined before the war. He fought in both Norway and Holland, where a daring attack on a key Dutch bunker at Dordrecht earned him the coveted Knight's Cross. His younger brother Lebrecht (aged 19 in 1941) joined the Fallschirmjäger as soon as he had finished his schooling in 1940. The youngest brother, Hans Joachim was at boarding school in early 1941. Quite a lot is known about him as a result of a very moving tribute to him, written by his boarding housemaster and sent (all 8 typewritten pages) to his mother. He was an excellent athlete, like his brothers, a daredevil and always ready to stand up for his schoolmates if he thought they had been unfairly treated. He was desperate to join his brothers and eventually wore down his mother, who allowed him to join up. He was under age in April 1941 (just 17), but his brother Wolfgang (then 24) was a hero of the regiment and no doubt pulled some strings to allow his brother to join him. Hans Joachim's training was abbreviated and he had not completed parachute training by the time of the Crete operation in May 1941. Wolfgang and Hans Joachim were in the 1st battalion of the 1st parachute regiment and Lebrecht was a lance corporal in the 2nd battalion.
Though the Fallschirmjäger were a formidable body of men, their units had suffered heavy casualties in Holland. These resulted from such problems as poor intelligence, having to retrieve their weapons from containers after landing, parachutes that allowed for little or no manoeuvering and harnesses that lacked quick-release mechanisms. Also, they were lightly armed and unless better equipped ground forces relieved them quickly they were vulnerable to a well prepared defence.
For the invasion of Crete, the world's first major airborne invasion, some even more serious problems were apparent. First, the plan to take the island's three airfields at Maleme, Canea and Heraklion was all too obvious. In addition, the British were reading the Luftwaffe codes and able to pass on to the Crete commanders precise details of the upcoming invasion. German intelligence had badly underestimated both the number and the quality of the Allied troops defending Crete; and the Luftwaffe had not considered the delays that would result in transporting troops from temporary, dusty Greek airfields, which had no modern refuelling stations (it was all done by hand-pumps). And they had not anticipated the number of transport aircraft that would be lost or damaged. This meant that the precise timetable for the invasion, including the necessity for the airfields to be taken quickly so as to allow artillery and heavily armed troops to be flown in, was thrown into disarray.
It was with these factors at play that the von Blücher brothers flew to Heraklion on 20 May. Lebrecht's company was to land at the eastern end of the airfield. This they did, but because of heavy anti-aircraft fire and a strong ground defence, consisting of the experienced 2nd/4th Australian infantry battalion, they were annihilated, either shot down as they landed or killed soon afterwards. Not one man of his company survived. Wolfgang and Hans Joachim were luckier as they were scheduled to land later and by then the drop zones had been moved out of enemy range. Wolfgang and most of his platoon were ordered to move in darkness towards the airfield, a distance of several kilometres over rough terrain. By daylight on 21 May he and his men found themselves surrounded by a company of well-prepared and heavily armed Black Watch soldiers who were supported by light tanks and artillery. The Germans were exposed to enemy fire in extreme heat, fast running out of ammunition and water. Attacks to relieve them had failed. Hans Joachim was several hundred metres from his brother's position and was determined to try to assist his brother. He found a horse (the area was farmland), draped it with canisters and bandoliers of ammunition and set off along a dirt track. For some seconds the British troops held their fire, but then realised that the horse rider was carrying ammunition. Hans Joachim was cut down almost immediately. His ride was to become the origin of a legend told by Cretans for many years thereafter, of the ghost of a uniformed horseman, galloping across the countryside. Soon after this incident Wolfgang's men ran out of ammunition and surrendered. Wolfgang, who had been told that the horseman had been his 17 year old brother, was slow to stand up and was immediately shot in the head, to the disgust of one of his comrades who was watching the proceedings from his foxhole two hundred metres away.
All three brothers had been killed within 24 hours of each other. The town and airfield of Heraklion fell to the Germans within days and despite their very heavy casualties, the Fallschirmjäger had prevailed against a numerically superior force. The survivors were greeted as heroes when they returned to Germany, but for the von Blücher family, the tragedy of losing three sons in the same operation took a great toll on the surviving sisters and their mother. Their brother Adolf was ordered home from active service and he managed the family estates until June 1944, when he was set upon by escaped Russian prisoners of war and shot with his own rifle.
Today, Wolfgang and Hans Joachim are buried at the German war cemetery at Maleme and Lebrecht, whose body was never found, is remembered on the wall of the missing. Their story is told in Adrian's book,"Heroes in Death: The von Blücher Brothers in the Fallschirmjäger, Crete, 1941", available from Amazon.
The thanks of the meeting to the panel of speakers from Glenwood and to Adrian Nesbitt for their outstanding, fascinating and superbly researched talks were conveyed by the Chairman, Roy Bowman.
* * * * * * *
Andy May.
Many of our long serving members will remember former member Andy May, whose colour sketches of military uniforms and Zulu Warriors were legendary. Andy's body was recovered from the Msunduzi River in Pietermaritzburg on the 21st January 2016. At this stage, the cause of his death is not known, but we mourn the passing of an outstanding artist, whose legacy will be found in many publications, including the Anglo-Zulu War Centenary edition of the Military History Journal (shown below). Our heartfelt sympathy goes to his wife Irena.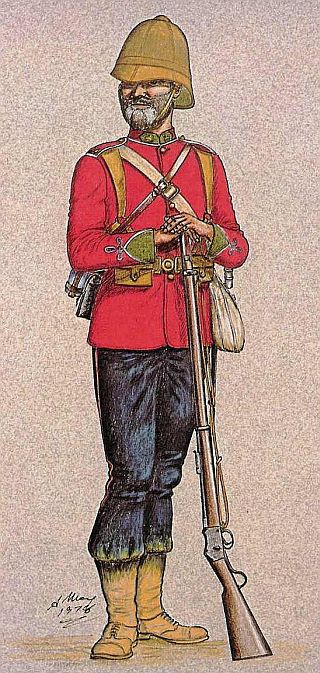 One of Andy May's illustrations taken from the 1979 Military History Journal
Next Meeting
Thursday 11th February 2016 (NB – Back to the second Thursday of the month):
Darrell Hall Memorial Lecture: "Cpl John Joseph Davies' VC near Delville Wood", by Donald Davies;
Main Talk: "The Polish Africans of World War 2" by Anthony Zaborowski
FUTURE MEETINGS
Thursday 10th March 2016:
Darrell Hall Memorial Lecture: "PT Boats at the Guadalcanal" by Roy Bowman
Main Talk: "General C R de Wet at Bothaville" by Robin Smith
Thursday 14 April
Darrell Hall Memorial Lecture: "From mirror shined boots to the spirit of the bayonet" by John Goodrich
Main Talk: "Iron Fist from the Sea" by Lt Col Douw Steyn
Thursday 12th May
Darrell Hall Memorial Lecture: The Historiography of World War 1" by Dr Mark Coghlan
Main Talk: "Three Scouts of the Anglo-Boer War and their exploits" by Alan Townsend
---
South African Military History Society / scribe@samilitaryhistory.org