SOUTH AFRICAN MILITARY HISTORY SOCIETY EASTERN CAPE BRANCH
SUID-AFRIKAANSE KRYGSHISTORIESE VERENIGING OOS-KAAP TAK
Newsletter/Nuusbrief 135
December / Desember 2015 The usual format of a meeting on a Monday evening was replaced by a day field trip on Saturday 14th November to visit the Anglo-Boer War Concentration Camp Memorial in Lennox Street, Anglo-Boer War graves in the North End Cemetery, as well as the graves of two VC recipients buried in Port Elizabeth and the memorial to L-Col John Fordyce. Tiaan Jacobs gave a brief presentation at each of the following sites:
* The grave of James Craig in the St. Mary's Cemetery in South End. Craig was a Colour-Sergeant in the 1st Battalion Scots Fusilier Guards who was awarded the Victoria Cross for action in Sebastopol during the Crimean War in 1855.
* James Langley Dalton in the Russell Road Roman Catholic Cemetery. Dalton was Acting Assistant Commissary in the Commissariat and Transport Department of the British Army during the Anglo-Zulu War. He was awarded the Victoria Cross for action at Rorke's Drift in 1879.
* The memorial plaque to Lt-Col John Fordyce of the 74th Highlanders in the Pearson Street Congregational Church. This plaque is unusual in that it was erected to his memory in Port Elizabeth although he was ultimately buried in England and is a mark of the esteem in which he was held by the colonists of the Eastern Cape.
The day concluded with a visit to a fully restored and working M4 Firefly Sherman Tank in North End. Members were given an opportunity to have a ride either in or on the tank – a highlight for many!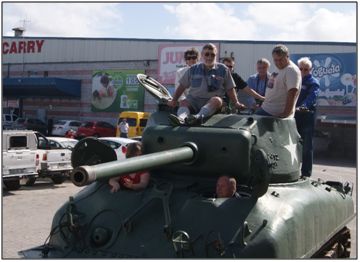 The M4 Firefly Sherman Tank
Photo: Anne Irwin

Note: Full transcripts of Tiaan's presentations are available from anne@moria.org

Future meetings and field trips/ Toekomstigebyeenkoms en uitstappe

The next meeting will be on Monday 14th December at 19h30 at the Eastern Cape Veteran Car Club in Conyngham Road, Port Elizabeth. The Curtain Raiser will be by Malcolm Kinghorn on Radicalisation and Home Grown Extremism, a topical issue. The main lecture, titled Side Arms of WW I, will be by Fred Nel.

Matters of general interest / Sake van algemene belang

Subscriptions 2016

Subscriptions for 2016 are:
Single subscription for 2016 - R 235
Family (2 people at same postal address) - R250

Information and collaboration sought

A researcher in Britain is working on subject of 'Telecommunications during and after WW1'. If there is anyone who has any useful information to pass on or would like to collaborate with him, contact Pat Irwin (p.irwin@ru.ac.za) who will put you in touch with him.

2016 South African Navy festival

For those who do forward planning, the 2016 Navy Festival will take at place at Simon's Town from 21st to 24th April inclusive, from 10h00 to 17h00 every day.

World War I Centenary Years/ Eerste Wêreldoorlog Eeufeesjare

A glimpse into life in the German trenches (Part three on 'Trenches')

Because the Germans dug in first, they were able to appropriate the relatively higher ground. Not only did this keep them warmer and drier than the British and French, who were generally on lower and wetter ground, but it also gave them tactical advantages in observation and movement. Given the generally defensive strategy of the German Army, they also tended to view their lines as more permanent than the British and French who, for much of the four years of the existence of the Western front, were primarily attempting to dislodge the Germans through frontal assaults. As a consequence, the German trenches were more elaborate and sophisticated in construction, sometimes up to five or six metres deep with concrete bunkers and stairs, electricity and ablution facilities – luxuries generally not found in the British and French trench systems. They also had greater lateral depth and hence more extensive opportunities for rest. All these factors meant the German troops enjoyed a greater level of safety from artillery, machine guns and mortars, a factor which Allied troops often found to their cost when assaulting German lines after sustained artillery bombardments.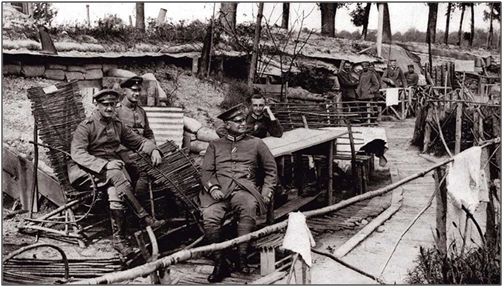 Behind a German trench on the Western Front. In between artillery bombardments,
patrols in no-mans-land and raiding enemy trenches, troops were at least safe from
machine-gun fire and could get some sleep and rest.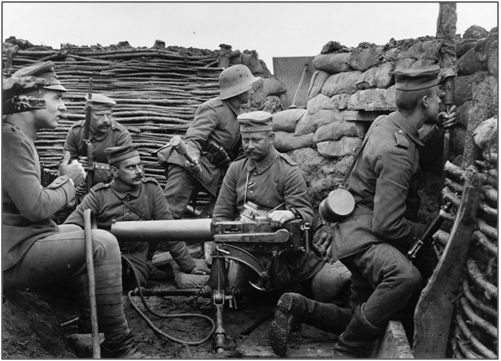 Six German soldiers pose in a trench with a machine gun,
a mere 40 meters from the British line according to the caption provided.
The soldier at rear, with steel helmet, holds a "potato masher" model 24 grenade.
(Library of Congress)
Source: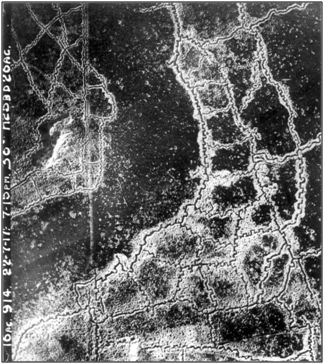 This aerial photograph taken in the Loos-Hulluch area, illustrates well the generally greater sophistication
and lateral depth of the German trenches (on the right) compared to the British (on the left).
Sources: Spartacus Educational, Trench Warfare, St. Boniface's College, history.com 
Major engagements in December 1915
The Siege of Kut-al-Amara. Following their defeat at Ctesiphon, (see Newsletter 134) the British, under General Sir Charles Townshend, retreated back to Kut-al-Amara, where they were almost immediately besieged by the Turks on 7th December. Despite several relief attempts, in which the British suffered 23 000 casualties, Townshend was forced to surrender unconditionally on 29th April 1916. 8 000 Anglo-Indian troops were taken prisoner. They were subsequently treated with cruelty and brutality, many dying in captivity. Townshend himself was, however, well treated. The surrender was a major humiliation for the British army and concomitantly, a significant morale booster for the Central Powers.
The beginning of the evacuation from Gallipoli: Anzac Cove, Suvla bay and the Helles. In the wake of repeated Allied failures to secure the peninsula (see Newsletter 131) and with further reinforcements virtually ruled out, the decision was taken in December to evacuate all Allied troops from the peninsula. This was against a great deal of opposition which included the argument by C-in-C, Sir Ian Hamilton (well known in South Africa, where he had inter alia taken part in the battles of Majuba, Elandslaagte and the Siege of Ladysmith) that it would result in 50% casualties. He was consequently relieved of his post and replaced by General Sir Charles Monro. The evacuation, which began in late December and was completed on 9th January with very few casualties, was the most successful element of the entire campaign. Churchill, however, cynically remarked of Monro'sachievement that "he came, he saw, he capitulated".
The allies lost 56 000 killed, 123 000 wounded and 7 000 missing or captured. The Turks lost 56 000 - 68 000 killed and an unknown number wounded. The total casualties, including illness, are estimated at nearly 500 000. The campaign destroyed the careers of several senior British officers, such as Hamilton, and led to the rise to power of a Turkish officer, Kemal Ataturk and, associated with him, the impetus for the 1923Turkish revolution. Ataturk is today still regarded by most Turks as the 'father'of modern Turkey.
The Battle for Lake Tanganyika was a series of engagements between small ships of the Royal Navy, the Belgium Force Publique and the Kaiserliche Marine on the lake between December 1915 and February 1916. Several of the vessels involved had been transported overland (see [SA] Military History Journal 1 (4) 28-30 in this respect). Despite initial German dominance of the lake, developments in the land-based war in East Africa led to German withdrawal and consequent British and Belgian control. One of the German ships involved, Graf von Göetzen, after being salvaged and rebuilt, today, 100 years later, still plies the lake under the Tanzanian flag as the passenger-cargo ship MV Liemba.
The Graf von Göetzen in 1915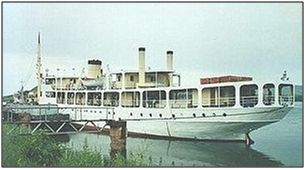 and in 2015 as the MV Limbe
Websites of interest/Webwerwe van belang
World War I
Inside a First World War U-boat
Alex Q. ArbuckleMashable u/d

21 German soldiers preserved in WW1 bunker found after nearly 100 years War History Online 26th August 2013

Mysteries and controversies of WWI
War History Online 2nd November 2015

Haunting selfies, premonitions of death and suicidal attacks: the last moments of World War I
Justin Lees news.com.au /News Corp Australia 11th November 2015

Weird War One! Parachuting pigeons. Wooden tanks. A riveting new book from the Imperial War Museum unearths the wackiest inventions from WWI
Robert Hardman The Daily Mail 20th November 2015

World War II
Dambusters' panda which flew on WW2 raids is 'priceless'[See Tailpiece]
BBC News 20th September 2015
Remains of a Lancaster bomber crew found after nearly 70 years
War History Online 30th October 2015

Aerial shots of bombed out Berlin in 1945
War History Online 25th October 2015

WWII US Veteran turns 103 and still works full time
War History Online 25th October 2015

WWII paratrooper receives awards the day before his death
War History Online 8th November 2015

The story of Zonderwater – an integral part of South African military history
Sue Adams South African Country Life 19th October 2015

Was Roswell UFO crash a secret Nazi aircraft?
Huff Post Weird News 27th October 2015

Pearl Harbour anniversary
Snopes.com u/d
Tizzard Mission – Britain's WWII Doomsday Plan
War History Online 15th November 2015

Historic aircraft
The Pentagon's new $80 billion super stealth bomber, Nazi stealth bombers, and flying wings
News.com.au 2nd November 2015

Spitfire In Action – Battle Of Britain
War History Online 4th November 2015

War on Terror
Secrets of the Spymasters
13th November 2015

Resource materials of military historical interest/
Bronmaterieel van krygsgeskiedkundigebelang
VIDEO
A very impressive 10 minute video titled Grey High School Remembrance Day Service, 11 November 2015
https://youtu.be/HixCrmtMuL8
SLIDES
Superb pictures of US Naval and air powerhttp://slideplayer.org/slide/1339994/
BOOK OVERVIEWS
Emmerson Stephen A 2014 The Battle for Mozambique: The Frelimo-Renamo struggle, 1977-1992 Solihull/Pinetown Helion/ 30° South 240pp including a glossary, extensive notes, a select bibliography and an index. 8 maps 16 pages of b&w photographs.
The 16-year civil war in Mozambique (1977 - 1992) in which over a million people died from violence, starvation and related causes is little known to most South Africans despite it having taken place in a neighbouring state. This is particularly the case in comparison to the Bush War in Rhodesia where many South Africans had kith and kinand which received wide and almost daily media coverage in South Africa. The Mozambique war, including some South African support for the Renamo insurgents fighting the Marxist oriented Frelimo government, received relatively little coverage in the South African media. Because of the nature of the guerrilla war very little primary or reliable material was available and much of that was moreover in Portuguese.
Emmerson's book is the most comprehensive account of the conflict to date. Thoroughly researched using primary documents and extensive interviews with participants on both sides as well as South Africans, Rhodesians and Zimbabweans, it is a gold mine of detailed information, explanation and insights. It is also a well-balanced and objective account in as far as this is possible when writing recent history.
The rich and informative content is, however, marred by poor editing, regrettably often a feature of publications by 30° South. It is difficult to understand why, when such effort has gone into the content and material, a good editor and proof reader are not employed to put the polish on the product. Problems here include unnecessary repetition (often word for word) many typographical errors and a sometimes confusing layout and sequence of events. This occasional lack of flow makes reading difficult. Some chapters seem more prone to these problems than others: the chapter on South Africa's involvement in the conflict is fortuitously one of the best written. Notwithstanding these points, for anyone interested in the big picture of southern African military history, this book will probably for some time be the best source.
Menige boeke oor die Anglo-Boereoorlog het onlangs 'n verskyning gemaak:
Moolman Nico 2012 The Boer whore Meyerton Published privately by N Moolman.
A fascinating story of a remarkable South African women, Susan Nell, who at the age of 17 was viciously raped by British officers whilst in the Winburg Concentration Camp and then after being brutally assaulted was left to die. She was saved by a Basotho man who rescued her from a sled taking corpses to a mass grave. He and his wife,at great risk to themselves secretly nursed her back to relative health in their kraal and in a secret cave. The rest of the book is what she, as a result of a great deal of kindness from many people including the redoubtable Marie Koopmans-de Wet of Cape Town, did with the rest of her life including during both World Wars. The style is best described as historical narrative and the book, once one is into it, is not easy to put down.
Smith Francois 2014 Kamp Hoer Kaapstad Tafelberg 268pp
Dit is 'n effens ander weergawe van dieselfde omstandighede rakende die lewensverhaal van Susan Nell. Hierdieboek is geinspireerengebaseer op Nico Moolman se vroeër werk oor die ware verhaal en sy reistog in die ontdekking van Susan Nell.
Strachan Alexander 2015 Brandwaterkom Kaapstad Tafelberg 282pp
Hierdie is 'n historiese roman waarin die verlede in geskiedskrywing weergegee word. Alhoewel die boek vanuit die Boere se oogpunt geskryf is, is dit 'n goeie inleiding tot die grootgevolge wat daar in die Anglo-BoereOorlog geheers het en die innerlike konflikte wat die Boere ervaar het.
Wilcox John 2013 Fire across the veldt London Allison & Busby 351pp
This is a novel by an acclaimed fiction writer on military conflicts. It portrays the war largely from a British perspective, at one point for example explaining concentration camps as places of safety, a point about which Susan Nell might strongly differ. It conveys the drama rather than the trauma of that war. The style is romantic fiction and is light reading.
Blake Albert Boereverraaier: Teregstellings tydens die Anglo-Boereoorlog Kaapstad Tafelberg 351pp insluitende uitgebreide eindnotas, 'n omvangryke bronnelys en indeks. 16 blaaie s & w fotograwe.
Dié boek spreek 'n sensitiewe onderwerp aan. Geen studie van die Anglo-Boereoorlog is volledig sonder om die minder bekende aspekte van die oorlog te bespreek, naamlik die verhoor en teregstelling van Boere wat deur hulle mede Boere as verraaiers beskou was. Die verhore en teregstellings was nie altyd regverdig nie en die nalatenskap hiervan het dikwels bitterheid en verdeeldheid onder die Afrikaners nagelaat. Die boek is in puikste Afrikaans geskryf en, van 'n literêrstandpunt, 'n plesier om te lees.
Bossenbroek Martin 2015 The Boer War Johannesburg Jacana 446pp including extensive notes, a select bibliography and an index. Four general maps and three b&w photographs. Translated from the original Dutch.
This book was the 2013 winner of the Dutch National History Prize. Despite claims to the contrary, this Dutch perspective adds relatively little to our overall understanding of the Anglo-Boer War. It is based heavily on the writings of Willem Leyds (Transvaal State Attorney, later State Secretary and the ZAR's Special Envoy to Europe in 1998-1902), Winston Churchill, Deneys Reitz and to a much lesser extent, Christiaan de Wet.
Woodman Richard 2015 The Battle of the River Plate: A grand delusion Barnsley Pen & Sword Naval
The Battle of the River Plate between the pocket battleship Admiral Graf Spee and three light cruisers, HMS Exeter, HMS Ajax and HMNZS Achilles, was the first naval battle of the Second World War and the first one of what was to become known as the Battle of the Atlantic, as Britain struggled to protect her maritime supply lifelines against a prolonged and determined onslaught by the Kriegsmarine. The battle took place off the coast of Uruguay on 13th December 1939 – 76 years ago.Unable to continue the battle due to shortage of fuel and ammunition, as well as crucial damage, the Graf Spee took refuge in Montevideo harbour, where it was later scuttled on Hitler's orders rather than face battle, where it was greatly outnumbered, [risking] capture or impoundment.
The Graf Spee caused some concern when it rounded the Cape sometime between the 17th and 26th November 1939. Speculation that it could have shelled Cape Town with impunity led to the installation of the 9.2 inch guns on Robben Island and at Llandudno. Although long since made non-operational, the six guns remain there to the present day. They never fired a shot in anger, but serve as a reminder of the potential potency of the pocket battleships' 11-inch (28cm) guns.
The book has been reviewed by Mark Barnes for War History Online. See

Members are invited to send in to the scribes, short reviews of, or comments on, books, DVDs or any other interesting resources they have come across, as well as news on individual member's activities. In this Newsletter, there have been contributions by Richard Tomlinson, Michael Irwin,Malcolm Kinghorn, Jonathan Ossher, Ian Pringle, André Crozier, Barry Irwin, and Antonette du Toit.
Chairman: Malcolm Kinghorn: culturev@lantic.net
Secretary: Franco Cilliers: Cilliers.franco@gmail.com
Scribes (Newsletter): Anne and Pat Irwin: p.irwin@ru.ac.za
TAILPIECE: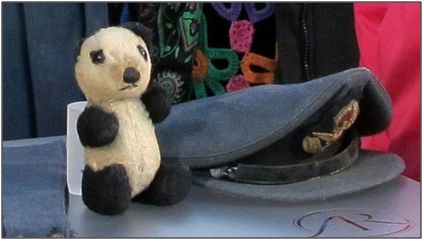 The toy panda which flew on Dambusters' raids and which has been described as 'priceless'.
---
South African Military History Society / scribe@samilitaryhistory.org